What do you look for in a Christchurch luxury hotel? When I recently visited the Garden City in New Zealand's stunning South Island I had a very clear set of deliverables for my accommodation. First and foremost, a king size bed for optimum sleep quality was paramount. Secondly, being in the heart of the Christchurch city was essential for our brief stay. And thirdly, I wanted a spacious sitting area for a pre-dinner drink with a friend. The Hotel Montreal Christchurch ticked every box and then some. Read on for all the details …
Hotel Montreal Christchurch Overview
I first heard about Hotel Montreal Christchurch two years ago when I stayed at the Regent of Rotorua. Both the Regent of Rotorua and Hotel Montreal Christchurch are managed by Brook Serene who operate five award winning boutique hotels in New Zealand. The Hotel Montreal Christchurch is a luxury all suite boutique hotel perfect for discerning business and leisure travellers. The 26 spacious suites are available in four configurations; superior suites, junior suites, family suites and the penthouse for when you really want to splurge. Hotel Montreal commands an enviable location in the heart of Christchurch's vibrant CBD, just 9klms away from Christchurch International Airport. The relaxed environment has been carefully orchestrated and beautifully finished. Hotel Montreal Christchurch has won many awards including the Trip Advisor Travellers' Choice Award in 2018 for the top 25 Luxury Hotels in New Zealand. Industry awards certainly have their place, but I place more faith in awards based on opinions of real travellers and the people have clearly spoken.
Our Christchurch Luxury Hotel Room
Our Emirates A380 business class flight from Sydney landed right on time at 2pm. We booked an Uber from Christchurch Airport (~NZD$30 each way) and The Hubs was dead on his feet when we arrived at the Hotel Montreal Christchurch at around 4pm. I had picked him up from work at 6am on my way to Sydney airport after his night shift and by the time we stepped inside room 206 he had been awake for around 36 hours. I was faring a little better having grabbed a few hours the night before, but no one was getting much sleep at our house in the week leading up to our departure courtesy of our brand new puppy. Charli is a 9 week old French Bulldog and while she is as cute as a button, she kept everyone awake that first week. One of the first things I noticed about our Christchurch luxury hotel suite was how warm and cosy it was despite the chilly Christchurch weather. The air conditioning was not on so I can only imaging the ambient temperature was courtesy of good insulation including the heavy black out curtains and the in room heat pump. The massive king sized bed was the first thing The Hubs noticed. It clearly looked inviting because he flopped down smack bang in the middle immediately. When I looked up 5 minutes later he was fast asleep. I decided to let him snooze for a bit before dinner because I had made plans to meet one of my blogging besties, Kathy from Walkabout Wanderer, and I needed him awake by 7pm. Kathy and I have been online friends for a couple of years, but this was our first real life meeting and we were just a little bit excited that we had finally managed to be in the same city at the same time. I woke him just before Kathy was due to arrive and he was none to happy. He probably would have slept through till morning if I let him. The only thing that would shake away the cobwebs was a long hot shower so I ushered pushed him into the modern bathroom in our suite. The shower was brilliant and had the all important hand held wand for my needs. While I always bring my own toiletries, The Hubs rolls the dice and uses whatever is supplied. The Hotel Montreal Christchurch provided everything he needed including a toothbrush. When Kathy arrived The Hubs was still languishing in the shower so I invited her up for a pre-dinner drink while he finished up. I popped a bottle of my duty free wine in the generous sized fridge earlier and our compact kitchenette came stocked with wine glasses so we were all set. I almost wished we didn't have dinner reservations so I could whip up a feast. Almost! Little touches like the pink sea salt and fancy tea made it feel all the more special. Had the weather been a little warmer we might have enjoyed our wine alfresco on the balcony, but alas dark clouds loomed and the mercury was dropping rapidly. Thankfully our 50m² suite was incredibly spacious and included a stylish living room with more than enough room to seat three in style. Technology at the Hotel Montreal Christchurch is cutting edge and our suite was equipped with an iPad, a Bose stereo and cable TV. Our luxury suite was an oasis of calm and exactly what we needed after a week of interrupted sleep. When we returned to the Hotel Montreal after dinner and drinks we slept like babies in one of the most comfortable hotel beds I have ever had the pleasure of sleeping in.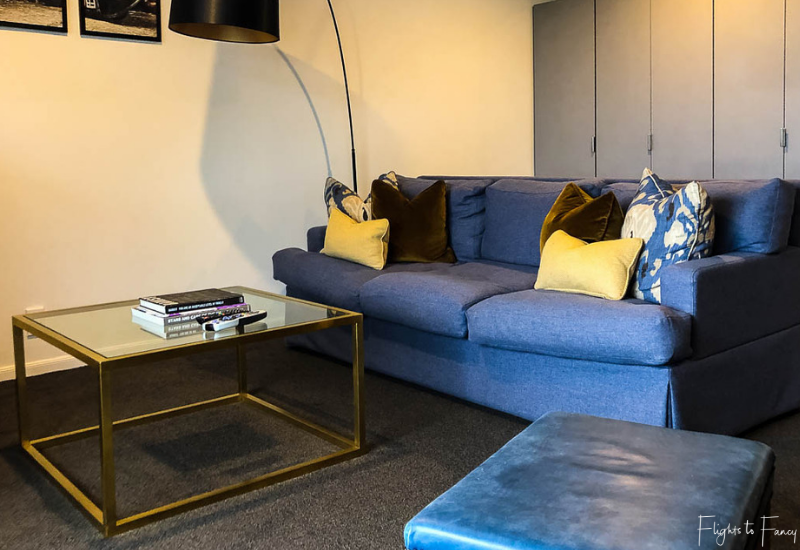 Polo Bar & Restaurant
The Polo Bar and Restaurant is situated on the ground floor behind reception at the Hotel Montreal Christchurch and is open 7 days a week for breakfast, lunch and dinner. Start the day of right with a continental buffet breakfast or order from the al a carte breakfast menu. Later in the day the Polo Restaurant serves Argentinian inspired shared plates and tapas using the highest quality locally sourced produce. Polo's signature dish, Lechon de Leche Empanadas, is an intriguing mix suckling pig, sweet corn, cumin, paprika and green chimichurri and is served along side traditional favourites such as Patatas Bravas, Chorizo al Vino and Albondigas. If you are looking for something more substantial, try the Canterbury Angus Ribeye or the the Argentine Grilled Lemon Chicken. Make sure you save room for dessert because the Passionfruit Mouse, the Churros and the Lime & Coconut Cremeux all sound divine. Check out the full menu here. The Polo Bar serves award winning wines and innovative cocktails in an elegant atmosphere perfect for all seasons. If the sun is shining head out to the spacious courtyard and if it's chilly huddle around the open fire, either way, the Polo has you covered.
Hotel Montreal Christchurch Facilities
I consistently write about travelling in luxury for less and one of the easiest ways to save a few pennies is to chose a hotel with free inclusions. Those little extras can really add up. We didn't collect the hire car we booked through Airport Rentals until we reached Queenstown, but if you are driving to Hotel Montreal Christchurch you will be thrilled to know that complimentary parking is offered to all guests. Parking in many luxury hotels can set you back as much as $50 a day. Free WiFi is often easy to come by overseas, but many Australian hotels still charge around $10 a day to stay connected. It irks me no end and I'm very pleased to say that the WiFi at Hotel Montreal Christchurch is free, fast and reliable. Sometimes it's the little things that make the biggest difference and the umbrellas in reception were a godsend when the heavens opened just before we stepped out for dinner. If you are tempted to use Christchurch's unpredictable weather as an excuse to miss your workout, think again. The ground floor gym at the Hotel Montreal means you can get your run on and still stay dry. Hotel Montreal Christchurch looks after their littlest guests by providing roll away beds where required and if mobility is an issue, just ask for one of Hotel Montreal Christchurch's accessible suites which are situated on the ground floor.
Nearby Hotel Montreal Christchurch
We left Christchurch at 10am on Air New Zealand flight NZ647 to Queenstown after spending less than 24 hours in town. With such limited time, being close to everything was imperative. Hotel Montreal Christchurch delivered in spades. While The Hubs crashed out on arrival, I walked the 5 minutes to Quake City. New Zealand is plagued by earthquakes as it sits on the boundary of the Pacific and Australia tectonic plates. The February 2011 Christchurch earthquake was one of the deadliest natural disasters in New Zealand's history. 185 people were killed, many more were injured and a huge part of the city was destroyed. Quake City is a museum dedicated to the devastating earthquakes that have rocked Christchurch and is well worth a visit. I was moved by the first hand stories and proud to learn of the assistance that Australia provided to our Kiwi cousins in their time of need. We had dinner at nearby Delhi Belly. The Hubs is not a massive fan of Indian cuisine so I don't get to eat it often and it is a real treat when I do. Don't let the name put you off, the food is awesome. When dinner was done and the night was too young to call it quits, we headed to Fat Eddies. The bar is unassuming from the outside, but once you head upstairs the space really opens up. The band was in full swing when we arrived and we were lucky to snag one of the last tables. Kathy and I even jumped up for a dance, but The Hubs was having none of it. After a few glasses of wine, I could have easily been convinced to kick on until the wee hours, but sanity prevailed when I thought of our early morning wake up call and we headed home just after midnight. Christchurch is not nicknamed the Garden City for nothing and the Christchurch Botanic Gardens is the Granddaddy of them all. The Avon River winds it's way through the lush gardens and there is even a splash pool for the kiddies. Guided tours are available so why not take a picnic and make a day of it. The Christchurch Botanic Gardens are one of the featured stops on the Christchurch Heritage Tram. Walk through Cranmer Square to Armagh St from the Hotel Montreal Christchurch and jump on the hop on hop off heritage tram to see all the major Christchurch sites with ease. Christchurch Casino is only a few minutes walk away from Hotel Montreal and with over 500 slot machines and a variety of gaming tables, high rollers will never be short of entertainment.
The Final Word on Our Christchurch Luxury Hotel Stay
While our stay in Christchurch was brief, the Hotel Montreal Christchurch made sure it was memorable. It is clear that every detail of the hotel design and been carefully considered. Our Christchurch luxury hotel suite was outstanding. The one thing every hotel should always deliver (but sadly some don't) is a great nights sleep. We were looking forward to an uninterrupted night's sleep more than anything and the impressive king sized bed at Hotel Montreal sure delivered. It was like sleeping on a cloud and I only wish we could have languished beneath the crisp white bedding a little longer. Every element of our stay was impressive. The convenient location, generous sized suite, powerful modern shower, comfortable sitting area and handy kitchenette exceeded all our expectations If quality is important, book your own special getaway here.
What do you look for in a luxury city hotel? I'd love to hear about it in the comments below.
Until Next Time …

Pin "Hotel Montreal Christchurch"

for later
Disclosure Statement: I stayed as a guest at Hotel Montreal Christchurch. The information in this article is based on my own personal experiences and has not been influenced in any way by the brand(s) featured. This post may contain affiliate links which if clicked may earn me a small commission on purchases at no extra cost to you.