Most times when I land in a foreign city, I don't put a whole lot of thought into how I am going to get to and from the airport. I generally book a car through Klook or order a ride on Uber or Grab. When I checked both options for Tokyo I was horrified at the cost. I needed a cheaper alternative to get from Ueno to Narita Airport and the Keisei Skyliner ticked all our boxes. Did I mention that the trip from Narita to Keisei Ueno Station only takes 40 minutes and that Keisei Skyliner tickets are only about AUD$30? Read on for all the details…
When Best Laid Plans Go Astray
Tokyo was supposed to be the first stop on our 10 days in Japan. We planned to spend three days enjoying all the spectacular food in Tokyo before heading to Osaka so we pre-booked our Keisei Skyliner tickets from Narita to Ueno which included a 72 hour Tokyo subway pass. Sadly we didn't get to use those tickets given our Jetstar flight from the Gold Coast to Tokyo was cancelled. I've had flights cancelled before, but never half way through boarding when we were already settled in our seats. We were 1000 kilometres from home and the quickest way to get to Japan was via Cairns to Osaka the next day. Jetstar bused us to Brisbane for a 9.40pm flight to Cairns. It was 1am before we walked into our room at the Colonial Club Resort in Cairns. Did I mention we left home at 4am that morning? I made good use of the long wait at Brisbane Airport and canceled all our accommodation. Cancelling our hotels in Osaka and Hiroshima was easy given check in was a few days away. Cancelling our Tokyo hotel was a little trickier given it was 5pm Tokyo time on the day we were scheduled to check in. I couldn't complete the cancellation online so I called Agoda. I cannot speak highly enough about their customer service. Not only did they refund every cent we had paid, but they processed the refund in Agoda cash so that I could use the funds immediately for new bookings without having to wait for a refund to be processed to my credit card. Agoda sure made my very shitty day a whole lot brighter. While I was on a roll, I booked three nights at the Bespoke Hotel Shinsaibashi in Osaka using my newly acquired Agoda Cash and two tickets on the Nankai Line Airport Express from KIX to Namba. I didn't cancel our Keisei Skyliner tickets at this point because I hoped they would allow us to simply use the ticket in reverse. Deciding where to stay in Tokyo is tricky as this is one huge city! When I re-booked I chose the Hotel Wing International Select Ueno-Okachimachi Hotel which was just a five minute walk from Keisei Ueno Station. It was the perfect base for our Tokyo itinerary. As soon as we checked in we popped in to see what our options were with our existing voucher. Sadly the Ueno office could not exchange our voucher as only the offices at Narita are able to issue the subway tickets which were included in our voucher. I refused to let the set back dampen my spirit and we got on with the rest of our day. When we returned to our hotel that night, I fired up the laptop, booked new Keisei Skyliner tickets from Ueno to Narita Airport through Klook and emailed Klook support to cancel the original tickets. Once again I was blown away with the service provided by Klook. I simply had to provide proof that my original flight was cancelled and I had the funds back on my credit card in less than a week.
READ MORE ABOUT JAPAN:
Hiroshima Peace Park (Coming Soon)

Osaka Castle (Coming Soon)

Mario's Pizzeria Hiroshima (Coming Soon)
How Fast Is The Keisei Skyliner?
In a land of fast trains, the Keisei Skyliner is one of Tokyo's fastest and can reach speeds of up to 160klms per hour. While Narita Airport (NRT) serves the greater Tokyo region, it is not actually in Tokyo. Narita International Airport is located ~60klms east of Tokyo in the Chiba Prefecture. With a journey time of just 41 minutes, the Keisei Skyliner is by far the fastest way to get from Ueno to Narita Airport. It's even faster from Nippori Station (36 minutes) making it the fastest rail service between Tokyo and Narita. The Keisei Skyliner is a limited express train with a very simple route. There are two stations in Tokyo; Keisei Ueno Station and Keisei Nippori Station and two stations at Narita International Airport; terminal 1 and terminals 2/3.
Buying Keisei Skyliner Tickets Online
I've been asked if the JR Pass can be used on the Keisei Skyliner. The answer is no. There are no Keisei Skyliner JR Pass ticket options. The only way to ride the Keisei Skyliner is to buy a separate ticket. I purchased my Keisei Skyliner tickets from Ueno to Narita Airport online. I checked all the usual suspects and I found four sites offering online tickets; Skyliner, 12GO, Traveloka and Klook. Traveloka and 12GO were both around ~AUD$31, booking direct was ~AUD$29 and Klook was the best value at ~AUD$28. So of course I booked through Klook. The other benefit of booking through Klook is that every purchase earns Klook credits that can be used against future purchases. Buying my Keisei Skyliner tickets from Ueno to Narita Airport though Klook earned me 15 Klook credits. There are a number of other purchase methods, but none are as simple. Keisei Skyliner tickets purchased online through Klook are only available to non-Japanese passport holders. You will need to show your passport when you collect the tickets as proof.
Redeeming Skyliner Tickets At Keisei Ueno Station
Redeeming your Klook voucher is a breeze (once you have the correct one!). You should only redeem your voucher on the day you intend to travel. Every seat on the Keisei Skyliner is ticketed and assigned. Our Jetstar flight home departed at 9pm and even with a late check out we were kicked to the kerb at midday leaving us homeless for the afternoon. We explored Asakusa and Ueno Park for a few hours and at about 4pm we decided to call it a day, collect our luggage and be on our way. When we arrived at Keisei Ueno Station there was only one person in front of me in the queue with five servers. Once at the counter I presented the Klook voucher stored on my phone. My server asked which train I would like to be ticketed on. Keisei Skyliner operates 3 services per hour between 6am and 7pm and I could see the next departure was in four minutes. I didn't think we would be able to hot foot it to the platform that quickly so I chose the one after which was 20 minutes later.
Onboard Keisei Skyliner From Ueno to Narita Airport
Turns out we can move faster than I though because when we got to platform the earlier train was still at the station. We debated for about two seconds whether we should get on it or not. I had a quick look through the window and it looked fairly empty so we decided to take a chance. We took our assigned seats of 4C&D in car 8 even though we knew we were on the wrong train. We were fully prepped to move if someone did arrive with tickets for those seats. We travelled fairly light this trip. I had my favourite High Sierra Rolling Backpack and The Hubs had her bigger brother. We had no trouble storing our bags in the allocated luggage racks at the end of each car. There is also an overhead luggage shelf if you prefer to keep your belongings close by. If you haven't packed quite as smartly as we did and want to travel hassle free, leave your luggage with Skyliner who will deliver it to your hotel for JPY¥4,210 before 11am or JPY¥4,510 between 11am and 3pm. After 3pm there is no same day luggage service. There is only one class on the Keisei Skyliner and all eight cars are virtually identical. The cabins are well lit and very clean. The seats are 'airline style', arranged in a 2×2 configuration and are more than adequate for the short journey. Passengers onboard the Keisei Skyliner can use the free Wi-Fi to browse the net. I didn't personally try it as I had a local SIM in Japan to stay connected. Toilets are available in car five and there are guards at either ends of the train in cars eight and one. We pulled out of Keisei Ueno Station (KS01) exactly on time which is what I have come to expect of Japanese efficiency. About 5 minutes into the journey we made a short stop at Keisei Nippori Station (KS02). We breathed a sigh of relief when no one got on with tickets for the seats we were occupying. Not long afterwards a conductor made his way through the train. There were about 5 other people in our carriage and we were the only passengers that were asked to produced our tickets. I can only assume that he knew exactly which seats should be occupied and was surprised to see us in seats that were supposed to be vacant. We handed over our tickets with a fake air of bravado prepared to feign ignorance over our 'mistake' if needed. He had a quick look, handed then back with a smile and was on his way. Phew! The Keisei Skyliner picks up speed after leaving Nippori and it wasn't long before we slowed down and pulled into Narita Airport Terminal 2/3 Station (KS41). While we alighted here, terminal 1 is just three minutes further along the track. The lift to the concourse was exactly outside the door of car 8. The station is located in terminal 2 and we walked the 800 metres to terminal 3 in about 10 minutes on a very clearly marked pathway. There is a free shuttle between the terminals, but unless you have mobility issues I wouldn't bother.
Getting From Narita to Ueno & Beyond
As I mentioned earlier, we had planned to land at Narita International Airport. Jetstar had different ideas and luckily we were able to cancel the tickets we purchased through Klook for a full refund when we ended up in Osaka instead. Before we had to cancel and re-book all our accommodation our original booking in Tokyo was at the Tokyo Dome Hotel which is ideally placed to enjoy all the fun things to do in Tokyo. We had planned to catch the Keisei Skyliner to Ueno Station, the Yamonote Line from Ueno to Akihabara and finally the Chuo-Sobu line to Suidubashi. I found Hyperdia invaluable for mapping out exactly which trains I needed to get to and from with ease.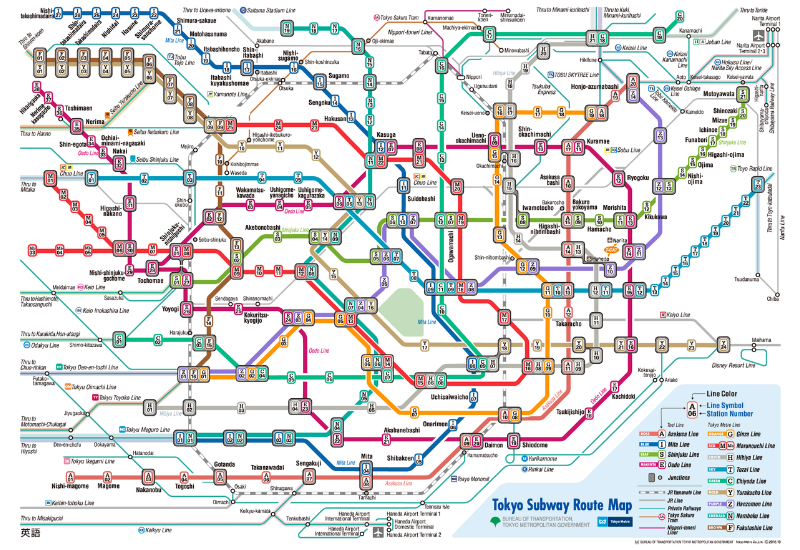 Why Not The Narita Express?
The Hubs and I had a JR Pass which made travelling around Japan simple and easy. The Narita Express is covered by the JR pass and would have made our journey to Narita International Airport free. So why did we choose the Keisei Skyliner instead? The quick answer is that while we were in Japan for 10 days we only had a 7 day JR Pass so on the other three days we had to pay for all our train travel. The last day of our trip happened to be one of those days so we searched for the very best option available. While we did look at purchasing a ticket on the Narita Express, it was more expensive, had less convenient departure stations and was slower than the Keisei Skyliner. A single one-way ticket on the Narita Express costs about ~AUD$40, the trip takes about 90 minutes and we would have needed to make our own way to Tokyo Station incurring an additional cost. No brainer really isn't it?
Our trip on the Keisei Skyliner from Ueno to Narita Airport was convenient, economical, comfortable and fuss free. Have you travelled on the Keisei Skyliner? I'd love to hear about your trip in the comments below …
Until Next Time …

Pin "Keiser Skyliner From Ueno to Narita Airport"

for later
Disclosure Statement: This review is not sponsored. I paid for my Keisei Skyliner tickets from Ueno to Narita Airport in full. The information in this article is based on my own personal experiences and has not been influenced in any way by the brand(s) featured. This post may contain affiliate links which if clicked may earn me a small commission on purchases at no extra cost to you.