Airports are not much fun. They are generally the bane of my existence and a means to an end. My time before departure usually consists of outrageous queues, traveller's tantrums (sometimes mine!), endless waiting and never enough little plastic seats at the gate for all the passengers waiting to board. But we found a better way to while away the hours at Phnom Penh airport when we discovered the Plaza Premium Lounge. Airport lounges were once reserved for the elite passengers at the pointy end of the plane or those frequent flyers lucky enough to have achieved gold status, but times are a changing. The Plaza Premium Lounge Phnom Penh is not just for the chosen few. Anyone who happens to find themselves with a couple of hours to kill at PNH airport can enjoy all the perks of this fabulous Phnom Penh airport lounge. If you prefer comfy seats, yummy food and free flowing drinks to mixing with the masses, read on for all the details …
About Plaza Premium Lounges
I'm a big fan of airport lounges. What's not to love right? I got my first taste of lounge life as a Qantas Gold Frequent Flyer, but sadly I've lost my status and the lounge access that comes with it. The combination of my American Express Velocity Platinum card and my Velocity silver status allows me four visits to Virgin lounges each year, but I was never really spoiled until I flew to New Zealand business class on an Emirates A380 and returned on Emirates A380 first class which allowed me access to the Emirates Lounge in Sydney and the Emirates Lounge in Auckland. Talk about taking it up a notch! I've also been lucky enough on occasion to be travelling with someone who has been able to get me through the lounge doors. But what if you don't have premium frequent flyer status, tickets at the pointy end of the plane or a good friend to get you in? Well this is where Plaza Premium Access Lounges come in. They have made the lounge experience accessible to most travellers. I say most because while Plaza Premium Lounges reach is great, you still have to get yourself to one of the 160 lounges in 42 airports across the globe. Luckily Plaza Premium Lounges can be found in some of the most popular airports in the world including Sydney, Melbourne, Brisbane, Phnom Penh, Singapore, Cebu, Siem Reap, London, Toronto, Penang and Kuala Lumpur. I have visited all of these airports and have somehow failed to notice the Plaza Premium Lounge on every occasion! How? Clearly I must go through life with blinkers on. It would have been really nice to have known about Plaza Premium Lounges when we flew from Cebu to El Nido on Airswift Airlines or from Siem Reap to Phnom Penh on Bassaka Air. Each lounge has various packages at different price points depending on the services offered. Check them all out here.
Access To The Plaza Premium Lounge Phnom Penh Airport
We checked out of Raffles Hotel Le Royal Phnom Penh and the driver we booked on Klook whisked us to PNH Airport. Well not exactly whisked, transport in Phnom Penh usually involves dealing with the diabolical traffic and we got caught in the jam. Allow at least an hour to get from the city centre to PNH. We could have saved ourselves a couple of dollars by using Grab Cambodia, but the convenience of no waiting was worth the extra for an airport run. Check in was breeze for our Qatar Airways Business Class flight from Phnom Penh to Ho Chi Minh City and we were thrilled when our server handed us two complimentary tickets to the Plaza Premium Lounge Phnom Penh Airport. If you are not lucky enough to be comped tickets never fear, the Plaza Premium Lounge Phnom Penh is open to all travellers for a modest fee. There are a number of ways to book your pass. You can book direct where a 2 hour pass will cost you USD$35 or a 5 hour pass will cost USD$50. If you are not that organised you can pay at the door, but of course it will cost you a little more; USD$39 for 2 hours and USD$55 for 5 hours. I preach on the blog about travelling in luxury for less by saving where you can to splurge where it matters. Savvy travellers looking for the best deal should head to Klook to book passes for the Plaza Premium Lounge Phnom Penh where a three hour pass is just AUD$38 (approx USD$28). That's USD$11 cheaper than at the gate with an extra hour thrown in. If your tastes run to the finer things in life you may want to book a private VIP room for up to six people at Plaza Premium Lounge Phnom Penh Airport for USD$264. No time to spare? You can simple pop in for a quick shower for just USD$17. The Plaza Premium Lounge at PNH Airport is located on the third floor up the escalators near gate 9. If mobility is an issue there is also a lift near gate 10.
Facilities At Plaza Premium Lounge PNH Airport
The Plaza Premium Lounge Phnom Penh was spacious and near deserted when we visited. Because we had our pick of the seats, we positioned ourselves near the window over looking the concourse which gave us a great view of gate 8 where we were departing from. I was keen to keep an eye on the gate because as far as I could tell no boarding calls are announced in the lounge. Each generous seat comes with a side table, a USB and a light shared between pairs. The USB was particularly useful as we both arrived with nearly flat phones. Two unisex shower rooms separate the male and female toilets. I imagine they would be quite busy if the lounge was at capacity. I was very tempted by the onsite spa where a head and shoulder or foot massage is a very reasonable USD$13 for 15 minutes or USD$20 for 30 minutes. WiFi is free throughout the lounge, but we had unlimited data on our Metfone Cambodia SIM card so it was wasted on us.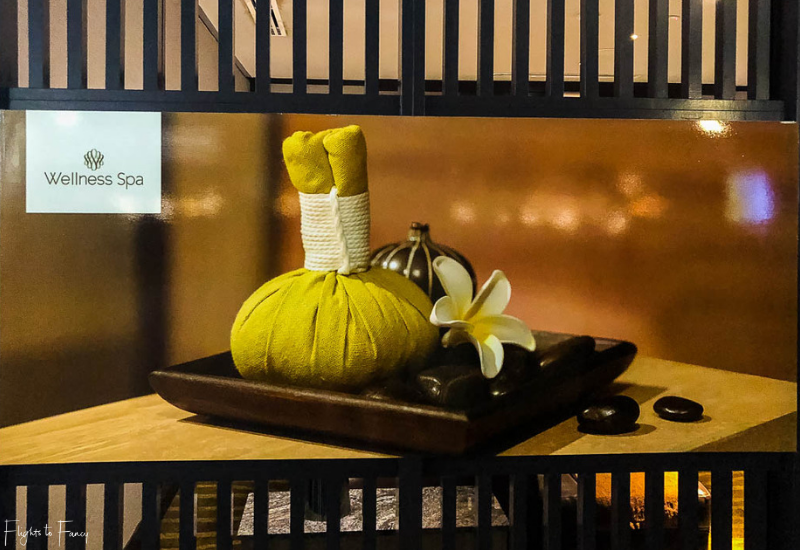 Dining Options Phnom Penh Airport Lounge
One of the best perks of the Plaza Premium Lounge Phnom Penh is the free food. We visited right around lunch time so our timing was perfect. Multiple buffet stations are clustered at the far end of the lounge and I perused them all. The bakery contains a small selection of individually wrapped bread rolls, crunchy sticks and sliced white bread. The hot buffet included a selection of Asian and Western dishes. The sweet potato chips were quite possibly the most bizarre thing I have tasted in a while. They were actually sprinkled with sugar. It brings a whole new meaning to 'sweet' potato. I did sample what I thought was potato salad from the cold buffet, turns out it was actually apple salad. The cook to order pasta station was without doubt the star of the show. I had the Penne Alfredo and The Hubs had the Tomato Penne. Both were cooked before our eyes and were suburb. The only thing that would have improved our pasta would have been fresh shaved parmesan (instead of the canned stuff on offer) and a healthy grind of cracked black pepper.
Drinks At Plaza Premium Lounge Phnom Penh Airport
The middle of the Plaza Premium Lounge Phnom Penh is dominated by a full service bar. Yay! I do love me some free flowing booze! Y'all know I'm a Sauvignon Blanc fan so I was most disappointed to find the only white white on offer was a Chardonnay. The horror! I wasn't prepared to settle so I opted for vodka and soda instead. And then I had three more. The Hubs matched each of my vodkas with an Angkor beer of his own. Self serve soft drinks fridges and juices are available without having to line up at the bar.
The Final Word On Plaza Premium Lounge Phnom Penh Airport
We had a long journey ahead of us on the day we visited the Plaza Premium Lounge Phnom Penh. After the short flight from PNH Airport to Ho Chi Minh City we had a four hour layover before boarding our 10 hour Jetstar International flight to Sydney, so it was nice to start the long road home in comfortable surrounds. While we did get free passes to the lounge courtesy of our business class tickets, I would gladly have paid the AUD$38 through Klook for entry. I consumed that in Vodka alone. I don't quite know how it has taken me so long to stumble across Plaza Premium Lounges given they are in so many airports that I have visited, but now that I have I am going to keep an eagle eye out for them. I flew from Taipei to Sydney on China Airlines in October 2019 and I also used the Plaza Premium Lounge in Taipei. If you are in the process of planning your trip to Cambodia make sure you check Agoda. I find they have the best prices on hotels in Asia and I use them almost exclusively to book my accommodation.
Have you got a favourite airport lounge? I would love to hear your thoughts in the comments below.
Until Next Time …

Pin "Plaza Premium Lounge Phnom Penh Airport"

for later
Disclosure Statement: This post is not sponsored. I used my Qantas Frequent Flyer points to book my business class tickets on Qatar Airways which included access to the Plaza Premium Lounge Phnom Penh Airport. The information in this article is based on my own personal experiences and has not been influenced in any way by the brand(s) featured. This post may contain affiliate links which if clicked may earn me a small commission on purchases at no extra cost to you.