You may have noticed I have a slight obsession with handbags and shoes. Who am I kidding, it's a major obsession. Accessories can make or break an outfit and statement bags always add the finishing touch. I have a healthy collection and today I'm sharing some of my favourites. Read on for all the details …
My Favourite Statement Bags
Dior is one of my favouite designers and totes are perfect for the office. I wore an all time classic black patent number in FFF57 and for a bit of fun I added my electric blue to an already very colourful outfit in FFF3.
While I'm talking totes, check out this neutral beauty from local designer Sash & Belle that I wore in FFF48. The cut out detail is just too cute. This dove grey Michael Kors from FFF32 is perfect for everyday and my baby blue Tory Burch from FFF9 brightens up the office on a dull day.
Speaking of blue … What do you think of my Mimco baby blue patent all rounder from FFF23? It generous in size and adds pizazz to any casual outfit. Still on pastels I wore this Michael Kors cross body in FFF45 in beautiful Hawaii where I grabbed it for a steal from Waikele outlets. Do you like snakeskin? You will love this electric blue showstopper from FFF43 that I wore in Bali.
While we are on brights, how does hot pink take your fancy? I wore this vibrant clutch in FFF47 with pastel pink and electric blue. Fluro yellow always makes a statement and I toned it down with slouchy boyfriend jeans in FFF10. Melbourne Cup is a big thing down under and my purple Coach cutie makes a big impact against basic black in FFF5.
On one of only a handful of other times that I have worn a dress on the blog I paired it with a special sparkly clutch in FFF38 for a date night dinner in Hamilton Island with The Hubs. That very same trip I took my most special possesion, my Chanel boy bag to the beach in FFF36.
And it's all in the detail with the final two … Silver hardware is my thing and Michael Kors (FFF58) and the Rebecca Minkoff (FFF41) nail it!
Like what you see? Check out more from the Sydney Fashion Hunter archives. Which of my statement bags do you like best? Let me know in the comments below.

Disclaimer: This post contains affiliate links which may earn me a small commission.

Like it? Pin it!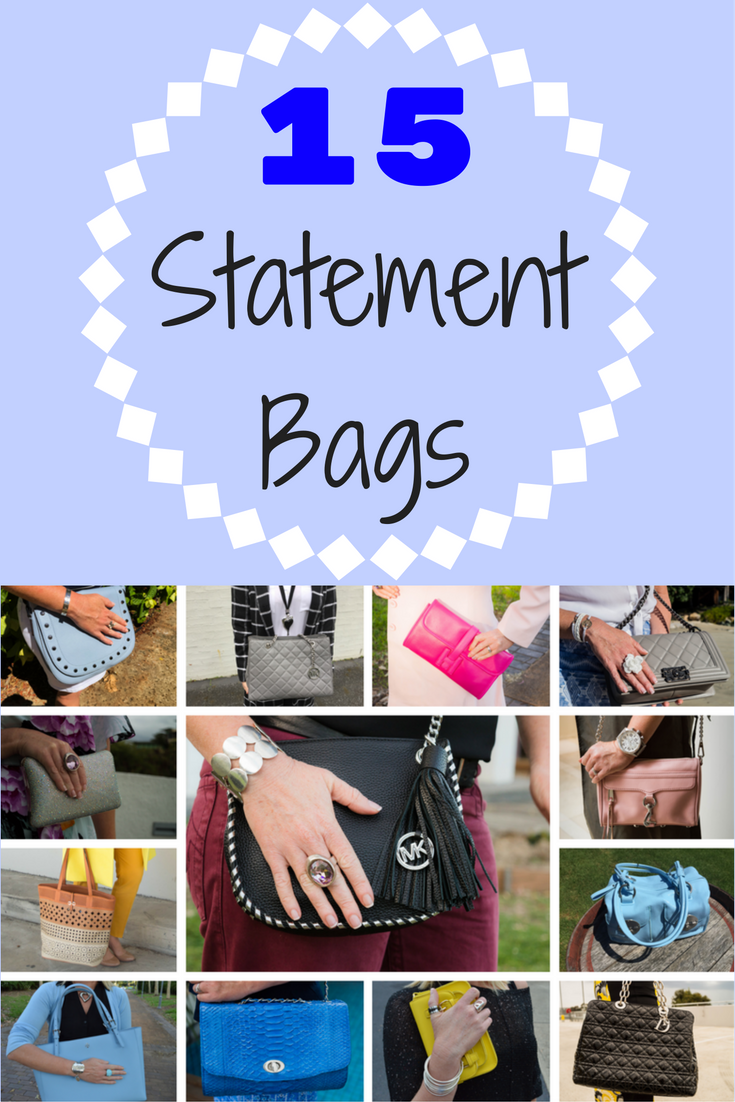 Save
Save