*** Updated January 2020 ***

Growing up in the western suburbs of Sydney money didn't grow on trees (according to my Mum anyway) and our annual family holiday usually meant a road trip in the trusty Kingswood. Fast forward 40 years and after enduring enjoying my fair share of road trips with my own kids, Low Cost Carriers (LCC's) are changing the face of domestic travel. Australia is a huge country and going anywhere other than 'just up the road' means long hours behind the wheel so I can certainly understand the appeal of a quick, cheap flight. That said, the great Aussie road trip is the unfortunate victim of these bargain basement fares. We are raising a whole generation that may never know the joy of travelling in a car packed to the rafters on a scorching summer day with endless whines of 'are we there yet' coming from the back seat. Good times! Even with the advent of cheap flights, I'm not quite ready to put the road trip out to pasture just yet. On our recent Tasmanian road trip, The Hubs and I explored Hobart, The Freycinet Peninsula, The Bay Of Fires and Launceston, taking in some of the most breathtaking scenery I have ever seen. Read on for all the details …
Tasmanian Road Trip Overview
This is the last in a series of posts featuring my recent Tasmanian road trip and is an overview of everything we covered in our six days down south. Tassie may be Australia's smallest state, but it sure packs a punch in terms of natural beauty. Before you hit the bitumen make sure you are well prepared for your road trip. I've kept each day deliberately brief, just click through the hyperlinks to the dedicated blog posts to get a lot more detail on anything that takes your fancy. Here goes ….
Day 1- Launceston To Hobart
Our return Jetstar flight from Sydney to Launceston cost just $55pp but one of the conditions on getting the bargain flight was that we had to fly in and out of the same airport. Had this not been the case, I would have flown into Hobart and out of Launceston to cut about 250klms from our road trip. We hired the car we picked up from Launceston Airport from Airport Rentals for a tiny $200 for six days. If you are considering flying in and out of separate airports, be aware that this often adds to the cost of the hire. Road tripping through Australia can be expensive and we tried to watch the pennies where we could. Once we had the keys, we wasted no time hitting the road and driving straight through the middle of the state to reach the Hotel Grand Chancellor Hobart right on lunch time.
The Hotel Grand Chancellor Hobart is right across the road from Hobart Harbour and we checked out all the fabulous places to eat in Hobart before deciding on the obligatory fish and chips from Fish Frenzy for lunch. After refueling we wandered around Salamanca Place, Battery Point and Hobart's CBD. I admit I did indulge in a little retail therapy 🙂
After a long day we grabbed a pizza for a no-fuss dinner from Cargo in Salamanca Place. It's the perfect place for an alfresco dinner. Stroll past the harbour on the way home and if you are lucky you will be treated to a spectacular sunset across the water.
Day 2 – Hobart
We hit the road early on day two as we had a full day planned at Port Arthur Historic Site. Port Arthur is just over an hour from the capital and provides a chilling glimpse into what life might have been like as a convict in Australia's early days. We grabbed a drive through brekkie at Maccas in Sorrel so as not to lose time. There are plenty of scenic stops along the way and you will be driving through devil country so make sure you stay alert. If you want to get a closer look at these fascinating critters stop in at the Tasmanian Devil Unzoo along the way. I wish we had left Port Arthur a little earlier so we could have stopped in at one of the fabulous wineries on the way back to Hobart. I rectified that on my next visit and visited 5 fabulous wineries near Hobart.
We headed back to Salamanca Place for dinner that night and burgers from Jack Greene were on the menu. Make sure you try a cocktail while you are there. They are amazing! The walk back was littered with fairy lights which was a lovely way to finish the day.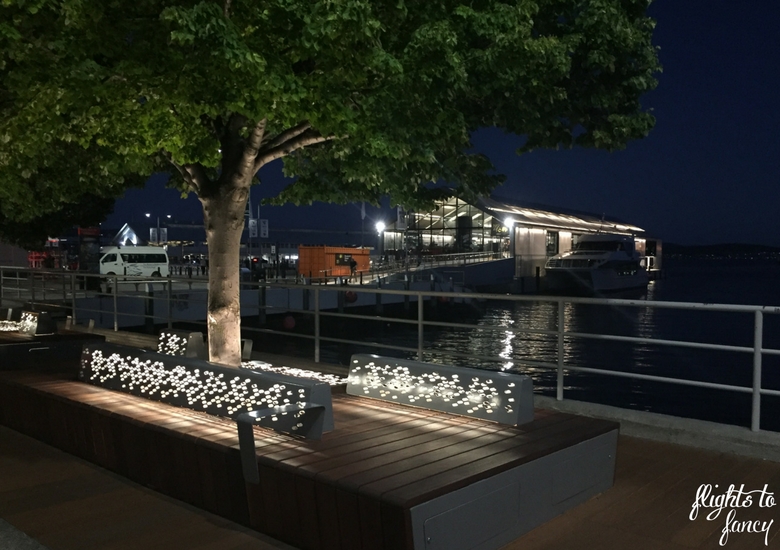 Day 3 – Hobart to Bicheno
We left Hobart in the rear view mirror and set off toward the coast and the second stop on our Tasmanian road trip. The Great Eastern Drive took us most of the way to Freycinet National Park. We had patches of rain for most of the 2 ½ trip along a windy road perfect for those on two wheels. I think The Hubs wished we had his beloved two wheeler rather than the Toyota Yaris which he didn't care for at all. We made a few stops along the way and when we saw The Hazzards dead ahead we knew we were close to our destination.
Parking near the the start of the Wineglass Bay walk was challenging. We circled both car parks at least four times before giving up and parking on the verge miles away. There are a number of different walks and we started with the short walk to the top of the lookout. The views from the top are amazing, but it gets crowded so you will have to jostle for position. After seeing the perfect white sand crescent we knew we needed to see it up close and personal. We were a long way up and I was a little apprehensive about how steep the decent would be. I'm not going to lie. It was tough. My calves took three days to recover, but it was worth it. Wineglass Bay has some of the clearest water I have ever seen and the 'sand' is actually much more granular than you would think. The upside is that it sticks to nothing! It was too cold to swim, but I slipped off my shoes and dipped my aching feet in the wonderfully refreshing water.
After a full afternoon of hiking we pointed the car towards Bicheno. If you don't fancy the rather arduous walk to Wineglass, check out the friendly beaches on the way out of Freycinet National Park. They are almost as pretty and much more accessible. The Freycinet Peninsula has a number of renowned wineries and we made it to Devil's Corner right on 5pm closing. Luckily the Freycinet Vineyard stays open until 6pm so we could also squeeze in a stop at the cellar door.
When we arrived at the Best Western Beachfront At Bicheno we had just enough time for a quick dip and a wander over to the beach for another fabulous sunset before dinner at the onsite restaurant. The Hubs' Waub's Bay Chicken was sensational.
Day 4 – Bicheno – Launceston
After doing Wineglass Bay the hard way, we decided to do it the easy way on day four and we headed to Coles Bay to board our Wineglass Bay Cruise. We spent all morning eating, drinking, chatting to our fellow passengers and enjoying the fabulous views from the upper deck of the luxurious sky lounge. We were blessed to have a pod of frisky dolphins dancing in the ships wake for much of the cruise .
After the cruise, we followed the coast for 2 hours until we reached the Bay of Fires. In hindsight, this was not a wise move. It was after 2pm when we arrived and we knew we had another 3 hour drive to Launceston before we could call it a day so our time exploring this spectacular area was rushed. I think we simply tried to squeeze to much into one day. I'd love to come back and spend a few days here to do it justice.
The road from Binalong Bay was winding, narrow, undulating and seemed to go on forever. The Yaris' under powered engine wasn't loving this part of our Tasmanian road trip but got us there in the end. It was around 6pm by the time we reached the Hotel Grand Chancellor Launceston which was to be our home for the next two nights. After a long day in the car we were happy to park it and explore Lonnie on foot in the little daylight we had left. We had a late dinner at The Prickly Cactus who's take on Mexican food is unlike any I have ever tried before.
Day 5 – Launceston
We woke up to torrential rain on our first day in Launceston. We sulked in the room for a while before deciding to throw caution to the wind and get out and about anyway. It was freezing and we stopped for warmth and sustenance at the Hog's Breath Cafe. Who says you don't make friends with salad!
The afternoon brightened up and we headed to Cataract Gorge. It's hard to believe that this natural wonder is only a 15 minute walk from the CBD. Check out the magnificent peacocks while you are there.
I have been to Lonnie before and had the most fabulous meal at the Black Cow Bistro and I just had to return. They didn't let me down. Everything was faultless and I reckon this could quite possibly be Australia's best steak.
Day 6 – Launceston
We had a midday flight home so on the last morning of our Tasmanian road trip we had a leisurely brunch at Banjo's Bakery Cafe before driving ourselves to the airport and bidding the apple isle farewell. The three-for deal on the miniatures was a perfect way to sample a few of the fabulous choices. Launceston is also the gateway for road trips to the west. While we couldn't fit it in this time, Cradle Mountain Lodge should be on everyone's bucket list!
We squeezed lots into our 6 day Tasmanian Road Trip. Did we miss anything on the East coast? Let me know in the comments below.

Disclaimer:  We travelled as guests on Wineglass Bay Cruises as part of our Tasmanian road trip. As always, all opinions are my own. This post contains some affiliate links which will earn me a few cents to contribute to the running of this blog if you make a qualifying purchase at no extra cost to you.
Like it? Pin it!
Save