*** Last Updated May 2019 ***
For my last two trips to Bali I chose to stay at The Club Villas Seminyak. There are tonnes of Seminyak villas to choose from and I am so glad I stumbled on these stunning Bali villas with private pools. The complex has a choice of 1, 2 or 3 bedroom villas to suit most travellers and you will be blown away by the value! Read on for all the details …
UPDATE: The Club Villas Seminyak has recently split to become two separately managed complexes; The Club Villas and The Aya Villas. The Club Villas now contains 9 x 1 bedroom pool villas, 10 x 1 bedroom honeymoon villas and 4 x 2 bedroom villas. The Aya Villas contains 9 x 2 bedroom family villas and 2 x 3 bedroom villas. The 1 bedroom honeymoon villa I mention below is part of The Club Villas and the two and three bedroom villas I feature are part of The Aya Villas.
Why Choose Bali Villas With Private Pools
I have been to Bali in excess of 10 times and until my last two trips I had never stayed in a villa, much less one with a private pool. Luxury hotels in Bali are typically incredibly good value but villas do tend to be on the pricer side and we usually opted to save some pennies. If I look back over my 10+ visits I see a distinct pattern of gradually upping the ante on our standard of accommodation. Each time we upgraded we found ourselves craving the next level until we reached the pinnacle of Bali accommodation and splurged on a villa with a private pool. It cost us AUD$761.48 for four nights in a Seminyak 1 bedroom villa. It was the most I have ever paid for Bali accommodation and a world way from the our AUD$25 a night room at Blanjong Home Stay in Sanur. If you are going to splurge you may as well go all the way. So we did. And booked the honeymoon suite. Once we had a taste of that villa life we were hooked and for our latest trip we returned to The Club Villas Seminyak with a bunch of friends in tow. This time we booked two 3 bedroom villas for 9 nights which easily accommodated our group of eleven and was perfect for my first time experiencing Bali with kids. The total cost was approx AUD$6,100 (or around $55 per person per night) including breakfast. I've stayed in some Aussie hotels where breakfast alone cost nearly that much. And it sure as hell didn't come served by a private pool! If you haven't yet treated yourself to a stay in a private pool villa, Bali is the perfect place to start. Sure it might cost a tad more than a standard hotel room, but Bali is one of the only places on the planet where this level of luxury is so affordable. Go on do it! You're worth it!
The Club Villas Seminyak Overview
Your vacation at The Club Villas Seminyak begins when the friendly staff great you warmly with a complimentary refreshing welcome drink. Our villas were ready on arrival both times and the staff wasted no time whisking us straight to the door in The Club Villas' signature tricked out stretch golf buggy. We took in the surrounds as we drove at a snail's pace through the lush gardens and meandering paths. The complex houses 36 1, 2 & 3 bedroom villas spread over a large block in a prime Seminyak location. Despite the fact that each of the 36 villas come with their own private pool, there is still a large communal pool for those that choose to use it. The free Wi-Fi is generally strong throughout the complex and a range of cable TV channels are beamed to each of the villas free of charge. Our Jetstar International flights home from Bali always leave at ridiculous o'clock which means you normally have a long period of homelessness after check out and before take off, but The Club Villas Seminyak arranged for a late check out (until 6pm) during both our stays. The first time we were charged IDR850,000 but on our second visit it was complimentary. Yay! If you are not so lucky, the staff are more than happy to store your luggage for you. The Club Villas do offer an airport transfer service but at IDR420,000 it's a little pricey when you can get a Bluebird taxi to Ngurah Rai International Airport for under IDR100,000 on the meter. The staff at reception are more than happy to call you one. For big groups, you should consider booking Bali Bus Hire to pick you up from the airport on arrival like we did. It does cost a little more but the convenience is well worth it.
Seminyak Villas 1 Bedroom With Private Pool
Our 1 bedroom villa in Seminyak was a delight. Villa #25 is situated at the rear of a small block of 4 and it felt a world away from the hustle and bustle of Seminyak's main street. As you step through the ornate entry doors you will find yourself transported to a tropical oasis complete with a generous private pool, thriving gardens and comfy sun loungers to while away sunny days. The living area, dining room and kitchen are all housed in an open air cabana just off the courtyard to take full advantage of the balmy climate. The pool was undoubtedly the star of the show and the temperature was spot on which all too frequently is not the case in Bali where unwelcome icy dips are more common than you would think. We swam every single day. We spent many an hour relaxing in this delightful space as the aromatic Frangipani tree dropped its delicate blooms on the sandstone pavers all around us. When it's time to retire for the night, retreat through the double doors into a glamorous air conditioned bedroom. The doors do stick a bit but its nothing a little muscle can't fix. Venture to your left and you are inside the huge dressing room though which you access the expansive indoor/outdoor bathroom. The egg shaped tub takes centre stage and is perfect for a long leisurely soak. To make getting around a little easier we hired a scooter from Tirta Bali Tour & Travel and the layout of the villa meant that we could park it directly by the door for easy access and piece of mind. If you really must sneak a little laptop time in, a compact desk makes working a breeze.
Private Pool Villa Bali: 2 Bedroom Villa Seminyak
We only had access to villa #29 for five short hours after we checked out of our 3 bedroom villa before heading to the airport but it was certainly enough time for a thorough inspection. Our two bedroom villa was tucked away behind the communal pool and was in much the same style as our one bedroom villa. The centre of the villa is a shared space which houses the living, dining, kitchen and a small garden. Off to each side are two very generous bedrooms each with their own private pools. Yes that's right! Two pools! The bathrooms adjoining each bedroom are expansive and feature The Club Villa's signature indoor/outdoor style. On our first visit to The Club Villas we asked to be shown some two bedroom villas given we were in the early stages of planning the group trip and the two that we were shown then were of a very different layout. #29 would be perfectly suited to two couples travelling together who still value their own space where as families may prefer the layouts where there is less separation between the bedrooms and more outdoor space.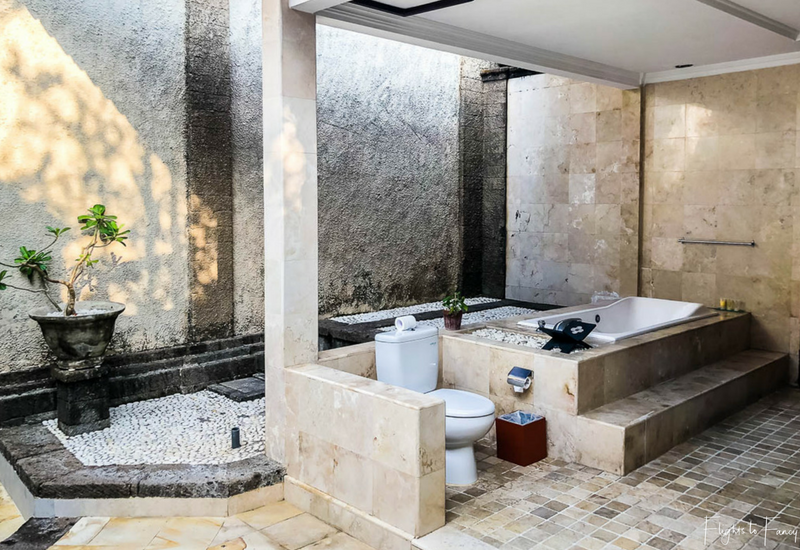 READ MORE ON BALI:
Everything You Need To Know About Shopping In Bali
110+ Amazing Things To Do In Bali
Services To Make Your Bali Vacation Even Easier (coming soon)
3 Bedroom Villa Seminyak Club Villas
The Club Villas Seminyak only has two 3 bedroom villas and we booked them both for our group of eleven. The four kids in our group have been looking forward to this trip for months and literally squealed with delight as they stepped through the door. Well three of them squealed. Mr 15 was way to cool to show any sort of emotion but I could tell he was squealing on the inside. Villas #35 and #36 are at the rear of the property and surprisingly are not identical. Over the course of our stay, we constantly debated which was superior but it was a tough call. Both villas feel a little less refined than the one and two bedroom villas and could do with a bit of a spruce up. The bedrooms in #35 feel a little more polished but #36 has a better pool and sunnier aspect. The three bedrooms in each villa are spread over two separate buildings; one housing two bedrooms that can be inter-connected and one stand alone dwelling for a little more privacy. All have king-sized four poster beds with mosquito netting, generous dressing rooms and huge bathrooms. The living, dining and kitchen are housed in separate cabanas away from the bedrooms which is great when the adults stay up and chat after putting the kids to bed. The pool in #36 was a hit with the younger members of our group and was put to great use, especially after we grabbed a couple of floaties from the Bintang supermarket. All eleven of us could comfortably swim at the same time without being at all crowded. The fridge in both villas was was woefully inadequate for our needs so we hired an esky (AUD$2) to take up the slack. There is no laundry facilities in the villas but if you get caught out like we did just call on Seminyak Laundry who will pick up your dirties and deliver them smelling sweet the next day for only AUD$3 a kilo. One of the kids observed that the TV's were really small for the size of the rooms and on reflection he did have a point but given we were rarely in front of the box it did nothing to detract from our stay.
Seminyak Villas Room Service
On our second stay breakfast was included in the tariff and we made the most of it. The menu contains a handful of dishes accompanied by a variety of fresh juices/beverages. We made a point to sample them all over the course of 9 days. The kids loved the pancakes and the breakfast sandwich was a hit with the adults. The Hubs was the only one to sample the Indonesian breakfast and he gave it the thumbs up. Each time we submitted our menus there were multiple changes from the standard offering thanks to a few picky eaters (including a vegan) but the kitchen staff got it right every single time. Towards the end of our stay when the huge breakfasts were becoming too much for me I asked for the 'Royal Egg' to be served without everything except the muffins and used the Vegemite I brought from home. Perfect! A shared fruit platter also accompanies every breakfast and the staff at The Club Villas set the table, serve each meal at the designated time and clear away the debris swiftly. The Club Villas Seminyak also offers a comprehensive room service menu consisting of both Asian and western fare if you have no inclination to leave the villa in search of sustenance. If you are hankering for something not on the menu consider Go Jek who deliver for a very small fee from many local restaurants. We used it multiple times during our stay and it was a godsend one night when the eleven of us all couldn't agree on a single place to eat. Three different deliveries from three different restaurants and we were sorted!
Nearby The Club Villas Seminayk
The Club Villas Seminyak's location on Jl Kaya Aya is hard to beat and you are mere steps away from everything that makes Seminyak great. Nirvana Restaurant and Bar is literally at the end of the path and we loved it so much we dined three times during our stay. Try the steak. For AUD$11 it can't be beaten. Kasava Resto & Bar is an easy walk and has daily specials while Warung Nia and Gapet Indonesian Roasted Chicken & Duck vie for space in Kaya Aya Square. A little further afield is our favourite Greek restuarnt Nostimo. The Soutzoukaki Platter is my go to dish. Also in the Petitenget area is Bambu, an upscale restaurant serving a variety of Indonesian cuisine which is not to be missed. For more rustic fare try Kultur which is very kind on the hip pocket. For something a little different head to Frankensteins for a night of dinner theatre, but make sure you book as it gets busy. If you are craving Mexican jump in a cab and head to Holy Guacamole in Legian for great food and cocktails. You can't come to Bali without a little pampering and Nirvana Spa, Spring Spa and Anggita Spa are all an easy walk. If you feel like venturing further afield, book a driver and head to nearby Canguu where there are lots of fabulous things to do.
The Final Word on Our Bali Villas Seminyak
Both of our stays at The Club Villas Seminyak were exceptional. There are hundreds of Bali villas with private pools to choose from but I would have no hesitation returning to The Club Villas Seminyak. I compared many, many villas during my research and I truly believe that The Club Villas offers the best value around and the location can't be beaten. We have only just returned but are already planning the next group trip to The Club Villas Seminyak in 2019. This might just turn into an annual tradition!
Have you got a favourite private pool villa in Bali? I'd love to hear about it in the comments below.
Until Next Time …

Pin "The Club Villas Seminyak Bali"

for later
Disclosure Statement: This post is not sponsored. I paid for both my stays at The Club Villas Seminyak in full. The information in this article is based on my own personal experiences and has not been influenced in any way by the brand(s) featured. This post may contain affiliate links which if clicked may earn me a small commission on purchases at no extra cost to you.