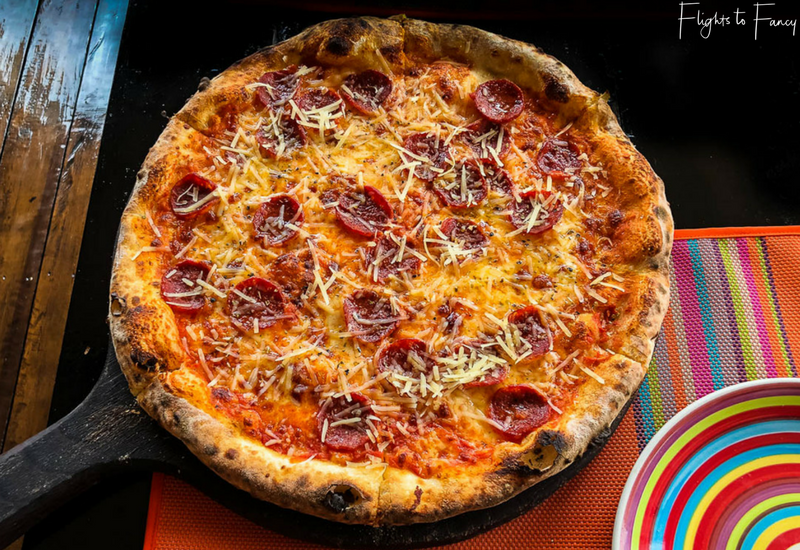 Chowing down on Pizza at Trattoria Altrove El Nido was not part of the grand plan for my visit to Palawan Philippines. When I travel I make it a rule to eat local. I've enjoyed Bun Bo Nam Bo in Hanoi, Croque Monsuier in Paris, Hangi in Rotorua, Beef Rendang in Kuala Lumpur (for breakfast!), Gang Kiew Wan Gai in Phuket, Frites Belges in Brugges (seriously yum!), Sepat Ayam in Legian, Paella in Barcelona (with lots of Sangria), Spanokopita in Santorini, Pork Pies in London and Poi in Oahu to name a few. OK I didn't really enjoy the pork pies or the poi, but I did try them all the same. During my recent trip to the Philippines I studied many a menu filled with Filipino 'delights', but I failed to find anything I was excited to order. Food is one of life's greatest pleasures and I have zero interest in eating something ordinary so I threw the rule book out the window and decided on Pizza. Our hunt for El Nido pizza lead us to Trattoria Altrove. Read on for all the details …
Finding The Best El Nido Pizza
I saw some very interesting interpretations of non-local cuisine in El Nido. 'Sweet potato fries' were literally regular potato chips sprinkled with sugar and The Hubs' ham breakfast at One El Nido Suite where we stayed was just wrong so I was a little apprehensive what El Nido pizza would be like. Pizza can range vastly in quality from gastronomic delight to leftovers the dog won't eat. I didn't want to end up with the latter so we made it our mission to hunt down the very best pizza in El Nido. If you are going to do it, you may as well do it right! There are no familiar pizza chains in El Nido as the likes of Pizza Hut, Dominos and Little Caesar's have yet to discover this tiny Palawan outpost. That's a good thing and mass produced pizza is highly unlikely to be the best. With very little local knowledge, we turned to the internet for advice. When Trattoria Altrove El Nido came up time and time again we knew it was the right place to get our El Nido pizza fix and the decision was made.
Getting In To Trattoria Altrove El Nido
Trattoria Altrove El Nido does not take reservations and clearly we were not the only ones keen to sample the best El Nido Pizza because when we arrived on a rainy night the place was packed to the rafters and a queue snaked along the road. It was 8pm and we were starving. We waited around for about 10 minutes and when we didn't see any progression we contemplated grabbing a take away from Altrove Express, but decided to head to Athena Greek Restaurant instead. The next night we arrived earlier (6.30pm). We had been on El Nido Tour A during the day and headed to Altrove straight after a quick shower. There was still a queue. The constant rain we experienced in El Nido had eased slightly and there were only two couples in front of us so we decided to wait. This time the queue moved quickly and we were seated in just over 10 minutes. Not bad at all!
The Trattoria Altrove El Nido Experience
Like many Palawan restaurants, Trattoria Altrove El Nido is barefoot only. This is an old Filipino tradition that is said to stop the spread of germs. As you enter you will be asked to remove your shoes and leave them in the pidgeon holes near the bottom of the very steep stairs. Don't do a Carrie and bring your Manolo's ladies because we all know how that ends! When we reached the top we were greeted warmly and got our first peek at the dining room which is not visible from the road. The space is compact, furnished in dark wood and features dim lighting. I love a bit of romance as much as the next person but reading the menus by candlelight was a little tricky. Most tables cater for two or four but the staff will push them together to accommodate larger groups where possible. There are two 'chill out zones' at the rear complete with low tables and cushions on the floor. While I love the concept of lounging around sipping cocktails, I know me and I would have worn half my dinner so we opted for a table. The traditional wood fired brick oven is on ground level while the busy kitchen pumps out meals at a fast pace upstairs in full view of the diners.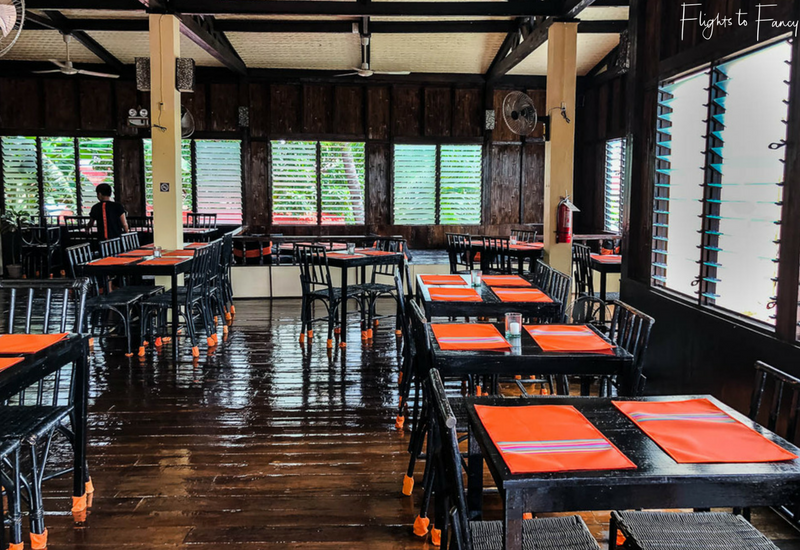 Drinks At Trattoria Altrove El Nido
After a week of cocktails I was really wanted wine. If you have read any of my previous restaurant reviews you will know that Sauvignon Blanc is my favourite tipple. A quick scan of the drinks menu at Trattoria Altrove El Nido revealed that my only option was a Sauv from Chile. I prefer the Kiwi variety but beggars can't be choosers and I ordered promptly. The Hubs opted for a Singapore Sling after loving the one he had at Long Bar in Raffles Makati earlier in the week. When the drinks arrived we were disappointed. The Hubs refused to drink his cocktail and slid it over to me while signalling for a beer. I drank it, but it most definitely wasn't a Singapore Sling and all I could taste and was orange juice. My wine was drinkable. Just. Never one to hold back, I expressed my dismay with the wine to the Slovenian manager and suggested he add a Kiwi Sauv to the menu. He somewhat gruff response indicated he wasn't too thrilled with my feedback and advised the cost of importing from NZ was prohibitive. I wouldn't have thought it would be that much different from Chile but what do I know. Wine is already expensive in the Philippines so I shudder to think what the end cost of a glass would be if he is right. Next time I'll be bringing a lot more duty free vino with me that's for sure.
The Main Event
We came in search of pizza but Trattoria Altrove offers all your Italian favourites. The Hubs stuck to his guns and ordered a pepperoni pizza (410php = approx AUD$10.20 or USD$8) but as always he customised it by adding fresh parmesan cheese. Despite my mission to hunt down the best pizza in Palawan when I saw the menu at Trattoria Altrove El Nido I found myself craving pasta. Badly. Three styles of pasta are on offer (penne, spaghetti and fettuccine) to mix and match with the various sauces. The pasta is imported from Italy and all the sauces are made fresh to order in-house in small batches. I decided on the Fettuccine Alla Carsica (300php approx AUD$7.50, USD5.80). As has happened on numerous times in the Philippines, our meals arrived at different times. While there is no excuse when they are being prepared by the same kitchen, I am going to give Altrove a slide here as coordinating the upstairs kitchen and pizza oven downstairs would have been difficult. My fettuccine was cut a little thinner than I expected but was cooked to al dente perfection. The divine cream, bacon and thyme sauce and was ladled on top rather than mixed through but I'm not adverse to a little DIY at the dinner table. It was delicious but I couldn't finish the generous serving size. The Hubs loved his pizza. The Naples style hand-tossed thin crust base puffed beautifully under the heat of the open fire in the brick oven. The toppings were generous without being overwhelming and both the mozzarella and tomatoes are imported from Italy for authenticity. As a testament to just how much he enjoyed it, he finished every bite which never happens and he has educated our local on just how to prepare his new favourite. They haven't added it to the menu yet but surely it's only a matter of time. With full tummies and the plates cleared we purposely didn't linger as a courtesy to those we knew would be waiting not so patiently outside. It would be nice if everyone was as thoughtful but we saw a number of guests hugging their final drinks longer than needed and we departed well before many who arrived before us. Often the hype of a restaurant doesn't live up to expectations but Trattoria Altrove El Nido did. It was by far one of the best meals we had in El Nido and if we had another night in town we would have gone back.
More Trattoria Altrove To Love!
What we didn't know when we dined at Trattoria Altrove in El Nido was that they have two other restaurants in Coron and Parañaque (Metro Manila). Imagine our surprise when we spotted another Trattoria Altrove as we were strolling through the streets of Coron after booking our Coron Island hopping tour. It was a no brainer that we would visit. In fact we visited twice; once for lunch and once for dinner. Unlike its cousin in El Nido, Trattoria Altrove Coron was almost empty both times we visited which was a bonus. The decor is a mirror image of the El Nido restaurant right down to the chill out zone. The Hubs simply could not stray from his favourite pizza creation but I did mix it up a little. After the drink debacle in El Nido I steered clear of the wine and Singapore Slings and opted for a frozen margarita instead. On midday on a scorching hot day it went down a treat so I ordered another. Hindsight is a wonderful thing and after adjusting for our initial disappointments in El Nido we actually enjoyed Coron Altrove more. If you find yourself in Palawan (or Manila!) you simply must try Altrove for yourself!
Have you been to Palawan Philippines? Do you have a favourite restaurant in the region? I'd love to hear about it in the comment below.
Until next time …

Pin "Trattoria Altrove El Nido"

for later!
Disclaimer: This post is not sponsored. I paid for all my meals at Trattoria Altrove in full and as always, all opinions are my own. This post contains affiliate links which will earn me a few cents to contribute to the running of this site if you make a qualifying purchase at no extra cost to you.