Eating out is one of my greatest pleasures. The appeal of enjoying a delicious meal, prepared with skill, that I don't have to clean up after is hard to resist. At home, I have my favourites that I frequent regularly but when travelling choosing a restaurant is a whole different ball game. Navigating the plethora of choices is a minefield and I've spent countess hours over the years deliberating where my next meal will be. If you are wondering where to eat in Hobart, read on for all the details …
Where To Eat In Hobart
I've been to Tasmania once before, but I didn't make it as far south as Hobart that visit. I was sure to rectify that this trip and the capital was the very first stop on our Tasmanian road trip. At the time of booking, Jetstar was offering free return trips on select routes so we opted to fly Jetstar domestic into Launceston rather than direct into Hobart. The insanely cheap price of $55pp return made up for any inconvenience. We wasted no time picking up our bargain hire car booked through Airport Rentals ($200 for 6 days!) and driving the 2½ hours straight through the heart of Tasmania to arrive in Hobart around midday. Hobart is a foodie town and the Harbour precinct where we stayed offered almost endless choices. We only had two days in town which would afford us the opportunity to sample three restaurants; two dinners and a lunch. Sometimes there are just enough meals in the day (or room in my stomach!) to sample everything. In this part of the world, the focus is heavily on showcasing local produce and Tasmania has some of the best. Be sure to choose somewhere that supports local when considering where to eat in Hobart. Menu's are innovative and elevate even a simple burger to the next level. The local chef's are adventurous with food pairings so go ahead and try something that takes you out of your comfort zone.
Fish Frenzy
Shortly after checking into The Grand Chancellor Hobart at midday our thoughts turned to food. We were directly across from Hobart Harbour and the water drew us over. Being so close to the water almost dictates that you must eat seafood. My dilemma is that this is one of the few things I don't eat. The Hubs loves it but more often than not bows to my tastes when we dine together. Have I mentioned how much I love this man? After looking at many menus as we wandered we decided to bypass the food trucks (well boats actually but lets not quibble) in favour of somewhere licensed with seating. Fish Frenzy fit the bill and honestly by this point my stomach was demanding that I put something, anything, in it.
I ordered the one thing on the menu that I would eat … the calamari. The Hubs ordered a fish wrap that came with chips which we elected to share. I can't say that the food was brilliant. It was deep-fried seafood and pricy. The quality compared to takeaway and I wish I had just stuck to the chips which were good. I did like the presentation though. Our food came wrapped in brown paper cones which reminded me of days gone by. At least we had beer and wine to wash it down with and the location on Elizabeth Pier was unbeatable.
Cargo Bar
For dinner on night one we decided we walk a little further a field and found ourselves in the heart of Salamanca Place, a bustling area with no shortage of eateries. We carefully perused all the roadside menus before deciding on Cargo Bar. Our hesitation meant that we missed the last outdoor table and had to eat inside which was disappointing on such a mild summer night.
There are three levels of pizza to choose from; classic, gourmet and deluxe which all come in two sizes and there are even two dessert pizzas if you are so inclined. We finally settled on a large Tandoori Chicken pizza to share ($27) after our server shut down our attempt to order half and half which was shame because there was at least five others on the menu that we would have liked to try. It was so good that even when we were full to the brim and couldn't finish the last two pieces we still manged to pick off the toppings. Does anyone else do that or is it just me? I washed it down with two sensational lychee martinis and The Hubs settled on Asahi from the reasonably sized beer menu.
Jack Greene
After our full day out at Port Arthur Historic Site where we only had a sausage roll to share for lunch we were ready for an early dinner and something substantial on our last night in town. When deciding where to eat in Hobart Salamanca Place is a no-brainer and we made a bee line back to Jack Greene after seeing the menu the night before. Being a little earlier than the previous night, we snagged the very last spot on the communal alfresco tables out the front. We were right at the end and climbing in an out was a little challenging but it was worth it. I loved the quirky table numbers which were beer bottles filled with sand.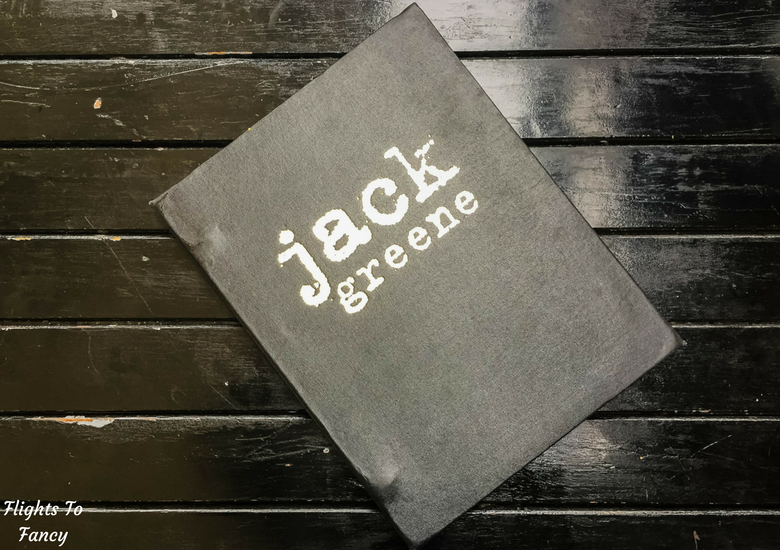 Step inside and a dark, brooding space awaits. After my eyes adjusted, I took in all the elements of industrial inspired decor which would be superbly welcoming on a cool winter night. We started a tab at the bar and I ordered a local Sauv Blanc to go with The Hubs' pale ale from the extensive craft beer menu while we studied our choices. The specialty of the house is burgers but this is not your run-of-the-mill takeaway. The choice is extensive and even vego's are looked after. Wallaby burger anyone? For those that simply can't settle on just one, Jack Greene offer the most popular burgers from the menu in miniature.
The Hubs had the Greek lamb burger. The meat was moist and perfectly cooked so the brioche bun held together well even with the eggplant aioli. Eggplant was not something he would normally seek up but the flavour really complimented the lamb. I had the cheeseburger and because I can never be satisfied to order straight off the menu I added haloumi cheese, red capsicum and spanish opinion from the extensive range of extras for a small extra charge. The bread to filling ratio was spot on and the bun didn't disintegrate which can often be the case. The chips were sensational; thick cut and super crunchy on the outside with a soft fluffy centre, exactly the way I like them. Jack Greene is the perfect example of simple food done exceptionally well.
As The Hubs made his way through the beer menu (taster sizes are available), I moved onto the cocktails. I loved the Lychee Cosmopolitan so much I didn't even glance back at the menu thereafter. If I could only drink one cocktail for the rest of my life and forgo all others, this would be it. The service at Jack Greene was impeccable. The staff were super friendly and they even charged my phone behind the bar for me when it went dead. If I lived in Hobart this would be my local.
Do you have any recommendations for where to eat in Hobart? I would love to hear about it in the comments below.

Disclaimer:  This post is not sponsored. We paid for all our meals in full and as always, all opinions are my own.
Like it? Pin it!
Save
Save