Regular readers know just how much I love Greek Food, so I was so thrilled to discover Yots Darwin during our recent trip to the top end. One of my favourite things to do on my travels is to seek out Hellenic cuisine in every new city I visit and Darwin was no exception. It's been almost two decades since I was last in Darwin and much has changed. I found myself having to re-acquaint myself with the local foodie scene and after a bit of research I discovered Yots Greek Restaurant Darwin. Our dinner at Yots Greek Taverna was one of the highlight meals of our trip. Read on for all the details …
Yots Greek Restaurant Darwin Overview
Yots Greek Restaurant Darwin is situated at the Marina in Cullen Bay just outside Darwin City. We caught the #14 Darwin public bus from Darwin City for just $3 but if your prefer a private ride try Hi Oscar which is similar to Uber and cheaper than a taxi. We hired a car from Airport Rentals for our self-drive to Litchfield National Park and we stopped in at the marina on the way back to catch the sunset. The views from the park in front of the marina are simply breath-taking. I suggest you time your visit to Yots Darwin for just after the sun disappears and come a little early to enjoy the show. Yots Greek Taverna occupies a prime position at the water's edge. Diners have a choice of seating and we chose to dine alfresco on the deck. It was reasonably quiet on the Tuesday night we visited and everyone had the same idea on the balmy winter's evening. We didn't have a booking but had no trouble securing a prime table right at the front. I'm sure that is probably not the case on a Friday or Saturday night so it might be wise to book.
Yots Greek Taverna Menu
Yots Greek Restaurant Darwin has a decent sized menu that features many Greek favourites.  I've been to Greece four times and I love to eat mezze style like the locals and so that's were my eyes were instinctively drawn. My go to dish of Spanikopita was notably absent from the list but I was suitably placated with the inclusions of Dolmades, Saganaki and Calamari. Seafood eaters are well taken care of with a number of mains to choose from including a local Barra with a Greek twist. Kleftiko and Mousaka were both present and accounted for as a nod to traditional Greek and they sat nicely alongside some more unusual inclusions of Char Grilled Quails and Papoutsakia. Greece's most famous dips, Tzatziki, Skordalia and Taramosalata, were all available as sides. The wine list looked after me well with two Kiwi Sauv's to choose from but The Hubs was not so lucky as his two favourite beers, Great Northern and Iron Jack, were missing. Very strange for a top end menu.
What We Ate At Yots Darwin
As soon as we were seated a delicious taster of complimentary feta and olives arrived at the table which we munched as we watched the sun's dying rays dance across the calm waters of the marina. Our drinks arrived shortly afterwards and The Hubs had to make do with a Coopers. Imagine his surprise when he saw a Great Northern being delivered to another table despite it's absence from the menu. You bet he rectified that for our second round. If The Hubs hadn't been the voice of reason I would have ordered all three entrees that took my eye but sanity prevailed and we decided on the fresh crusty bread and the Saganki to share. As we were contemplating the mains the food arrived at a neighbouring table and as soon as I laid eyes on the Souvlaki I was sold. It looked substantial so we chose to share a mixed order of chicken and lamb after grilling the waiter mercilessly about whether the chicken was all breast meat. He assured me it was. The crusty bread was warm straight from the oven and freaking awesome. And it was served with real butter just the way I like it. The Saganaki at Yots Greek Taverna is served parmesan crusted. I thought it was a little overpowering but The Hubs was suitably impressed with the salty addition. The chick peas on the side were a tomatoey surprise and we mopped up the sauce with the remaining bread and devoured it with relish. It wasn't long before our lamb and chicken souvlaki arrived. We noted that it doesn't come with pita so we ordered a half serve ($4.50) on the side. Despite the waiter's assurances, the chicken was not all breast meat. The lamb was by far the superior of the two. It was cooked to perfection with a warm pink centre and the herby marinade was much more prominent than on the chicken. The lemon thick cut potatoes were a fine partner. The side salad was enormous but was overpowered by the lashings of raw Spanish onion. The char grilled onions on the souvlaki skewers were far more pleasant.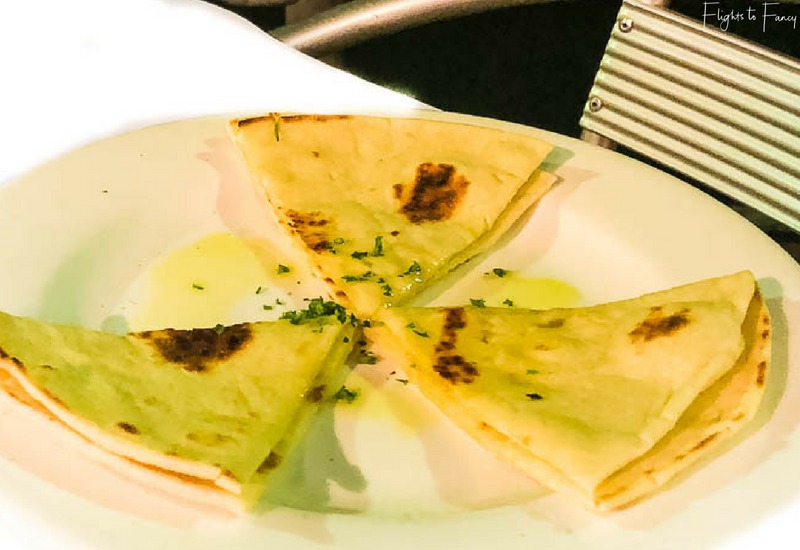 The Final Word Yots Darwin
Our Greek feast at Yot's Darwin was one of the best meals we had in the top end. The setting was superb and Darwin's balmy weather was the icing on the cake. Well after we had ordered I noticed the specials on the chalk board which included Spanikopita. I was so disappointed our waiter didn't point them out as it would have definitely landed on our table. We did question him on that, the fact that the chicken souvlaki wasn't breast like he promised and the fact that Great Northern wasn't listed on the menu. He explained he hadn't been working there long so we couldn't be too hard on him. We walked the 40 minutes back to our accommodation at Palms City Resort Darwin in order to somewhat compensate for our over indulgence but I'm not convinced it was enough. If you love Greek food as much as I do and find yourself in Darwin, makes sure you head to Yot's Greek Taverna. You won't be sorry.
Have you been to Darwin? I would love to hear about your favourite restaurants in the comments below.
Until Next Time …

Pin "Greek Restaurant Darwin: Yots Greek Taverna"

for later
Disclosure Statement: This post is not sponsored. I paid for my meal at Yots Darwin in full. The information in this article is based on my own personal experiences and has not been influenced in any way by the brand(s) featured. This post may contain affiliate links which if clicked may earn me a small commission on purchases at no extra cost to you.